421 4.7.0 Too many errors; closing connection Exchange 2016
421 4.7.0 Too many errors; closing connection Exchange 2016
Exchange 2016 running across three (3) Server in DAG, On Exchange01 i could see the all the email are getting stuck in queues including authentic emails and queues.
The below image isn't clear but the error description is "421 4.7.0 Too many errors; closing connection"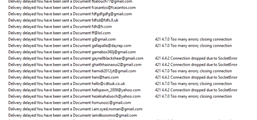 Resolution:
1. Login into ECP, go to Mail Flow, then Receive Connectors
2. Remove the check mark from "Anonymous users" across all the Exchange Servers and restart Transport Service in all the Servers.