Quick In-Place Mailbox Archiving through PowerShell
Quick In-Place Mailbox Archiving through PowerShell
Applies to: Exchange Server 2010, Exchange Server 2013, Exchange Server 2016, Exchange Server 2019, Exchange Online.
If a user mailbox is full and it was not archive earlier, Microsoft provides a quick and easy resolution for the same.
Enable the Mailbox Archive from Exchange Admin Center, by default the Retention Period is 730 days, however you can create your own policy but I decided to go with the default Retention Tag.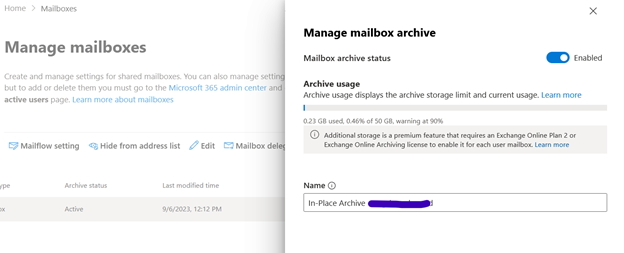 Usually it takes 24 hours to get into effect and as per Microsoft it takes 7 Days for the mailbox to get archived.
By running the below PowerShell command 5(five) times for the same mailbox the archiving starts quickly. Yes, you need to initiate the command 5(five) times.
PS C:\WINDOWS\system32> Start-managedfolderassistant username@domain.com