Huawei VDI Project Implementation
Huawei VDI Project Implementation
Huawei VDI Project Implementation
Our company was hired for one of the government project somewhere in North Africa for implementing VDI for their desktop users. I was chosen to visit and complete the project. I shall take you with the process of deploying the VDI, and highlight the issues I faced and how I resolved it.
Components Involved
Hardware
| | |
| --- | --- |
| S.No | Product Name |
| 1 | 2288H V5 (Compute and Storage Node) |
| 2 | FusionAccess TC |
Software Package
| | | |
| --- | --- | --- |
| S.No | Product Name | Version |
| 1 | Fusion Compute | FusionCompute 6.5.1 |
| 2 | Fusion Storage Block | Fusion Storage Block V100R006C30SPH505 |
| 3 | Fusion Access | Fusion Access V100R006C20SPC101 |
Deployment Process Flowchart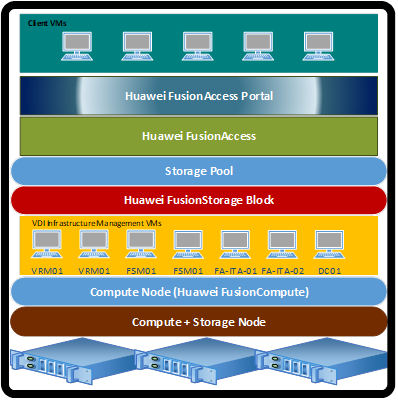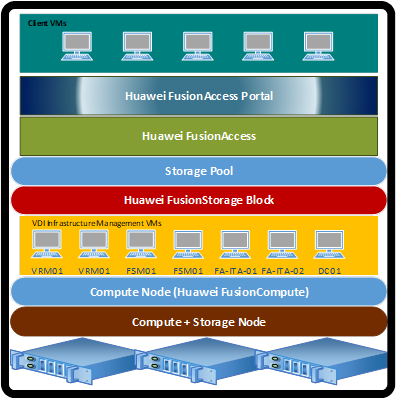 VDI High Level Design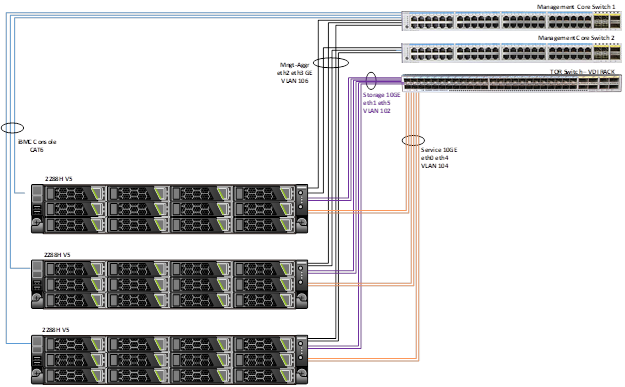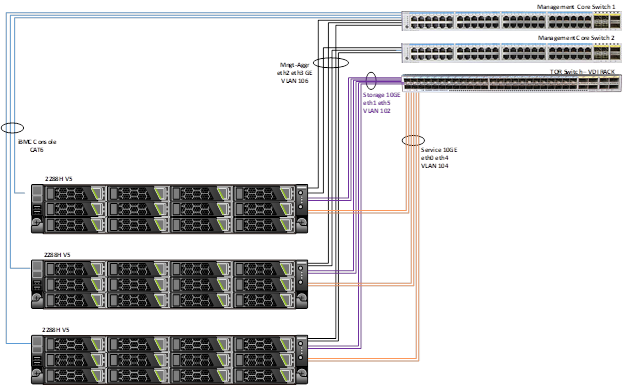 Steps I followed to deploy the VDI Installation
Installing CNA (Hypervisor) and VRM using the Huawei FusionSphere Installer.

Install and Configure the FusionSphere on any desktop machine connected to the network.

Verify the packages
Select Host and VRM for installation
Configure the DHCP (temporary) with the subnet you desire for deploying the CNA's and VRMs.
Connect all the hosts server on the same switch or the same VLAN.
Boot the hosts servers over PXE.
Hosts server will be detected in Huawei FusionSphere Installer
Install CNA and then deploy VRM. VRM is nothing but a web based portal named FusionCompute to maintain and manager the Virtual Resources (Memory, CPU and Storage).
VRMs are deployed in Active/Standby mode
All the Host Servers are in one single cluster.
FusionStorage Block Installation

I followed the Huawei document and successfully installed the FusionStorage Block Management VMs.
Then pushing the FusionStorage Agents on the Host Servers to detect the storage and configure the storage pool.
The challenging part was configuration, I had 10 NVMe SSD Disks 3.2TB on each Host Server. I couldn't detect the disk in the Host Server and faced issues in configuring in the FusionStorage Block Portal as well because of which all my Host Server used to get restart plus all the NVMe SSD disks were showing as NULL on the Host Server



I requested the Huawei team for support me for resolving this issue.
Later I found that we need to upgrade the RAID card drivers and install the drivers for NVMe Disks to resolve the issue.
After installing the drivers, I could detect the disks
Verify the drivers after installing as shown below:


     After the drivers were installed I could configure the FusionStorage Block and configured in FusionCompute as well.
FusionAccess

Deployed two VMs for FusionAccess (FA-ITA-01 and FA-ITA-02)
Deployed Active Directory for VDI User Authentication
Integrated FusionCompute, FusionAccess and Active Directory.
Configured FusionAccess
Created a VM Template
Provisioned the VMs and tested successfully

Licenses

Applied the Licenses for FusionAccess and FusionCompute
Applied the FusionStorage Block license.
The project was successfully handed over.